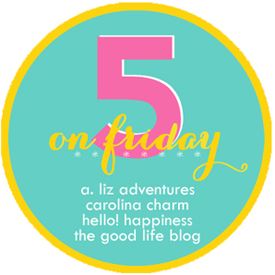 Yeah for friday, out here in the dirty jerz its our last friday of the summer!  Bring on fall, my favorite season!!
I'm linking up today with the good life blog for five on friday.  Just blogging about five random things! (super easy)
1. Fall candles
It's amazing at the excitement that burning a candle brings this girl, but there is nothing better than starting the fall off with the smell of pumpkin spice or cinnamon apple berry breezing through the house.  Makes doing chores a lot more fun when the house smells pleasant!  Jumped over to the yankee candle site and saw one of their new fall scents is vanilla chai, I'll have to save my allowance and try it out! I have an addiction to iced chai tea lattes so this may be right up my alley!
Saw this new collegiate collection and even though we aren't big in this house with college football (I know shame on us).  I know my brother in laws would probably enjoy them! Might be the only way you can get a man to light a candle!
2. Boots and Scarves
I would be lying to say that I cannot wait to trade in the shorts and tanks for a nice pair of brown boots and an infinity scarf!  Thrilled to bring out the fall wardrobe, as you can see I am biased to the brown boots! Might be on the look out for a grey boot this year, daring I know!!
3. Make up
Still saving up for the Urban Decay Naked palette eyeshadow, somehow I have managed to convince myself that it WILL change my life.  Did however purchase two things from a pin I saw about makeup, Maybelline Baby Lips for like under $4 at target has just the right amount of tint and good moisture.  The colors were a little out of my comfort zone but since the color I picked wasn't strong it worked.  I also feel in love with the Revlon Just Bitten Kissable Balm Stain (longest name ever), that was about $7 sold out at target so picked it up at CVS.  Loved all the colors and it stayed on for so long, a must try!!!
4. Women of Faith
Got the call a couple of days ago if I wanted a ticket to the conference!  Of course!!! Today I am driving down to meet friends and family to attend the conference in Philly! I can not wait to spend twenty-four hours just focusing on something other than the dishes and laundry!  Praying for God to speak to me in some huge ways.  Super excited to hear Angie Smith.  I have been following her blog for a while now and am always moved by how willing she is to be vulnerable and real.  She wrote one of my favorite books, "What Women Fear", if you haven't read it yet — go get it!!
5. Oceans
I know I am a little late for the party, but I am obsessed with the song, Oceans by Hillsong United .  I could listen to it on replay all night long.  If you haven't heard it, download it NOW!
Have a great friday and enjoy this beautiful weekend!